Building Value in the Investor-Advisor Relationship
In our view, advisors are an essential part to guiding investors through important investing decisions as they relate to life circumstances.
Envestnet's core capabilities not only as a technology provider for wealth management but also as consultants for advisory best practices help advisors deepen and strengthen their client relationships. Our breadth of investment solutions, network of intelligence through data aggregation and analytics, and open architecture design empower advisors to truly deliver on their promise to add value.
We believe that the essential advisor for today and in the future will be one that leverages the best technology to deliver the desired level of personal attention to each client, big or small, as they continue to scale their practices.
The Essential Advisor: Building Value in the Investor-Advisor Relationship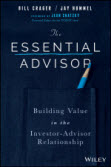 The Essential Advisor presents an insightful handbook for advisors looking to navigate the changing face of financial services. The industry is evolving, consumers are evolving, and many advisors are being left behind as old methods become less and less relevant. This book shows you how to turn this shift into a positive, by positioning your firm to maximize these new opportunities, and deliver the results and experience increasingly expected of financial advisors.
The Principles of the Essential Advisor

A program and handbook designed to arm advisors with the tools and resources they need to help their clients navigate investment decisions through every stage of their lives.
Capital Sigma: The Return on Advice
An ongoing debate among investment advisors and their clients centers on value: creating it, preserving it, and perpetuating it. Each faces a different challenge: Advisors are tasked with delivering worth to their clients, and clients need to understand what they can expect for the dollars they spend.