Wealth Management Technology
Delivering an industry-leading technology experience to wealth management professionals.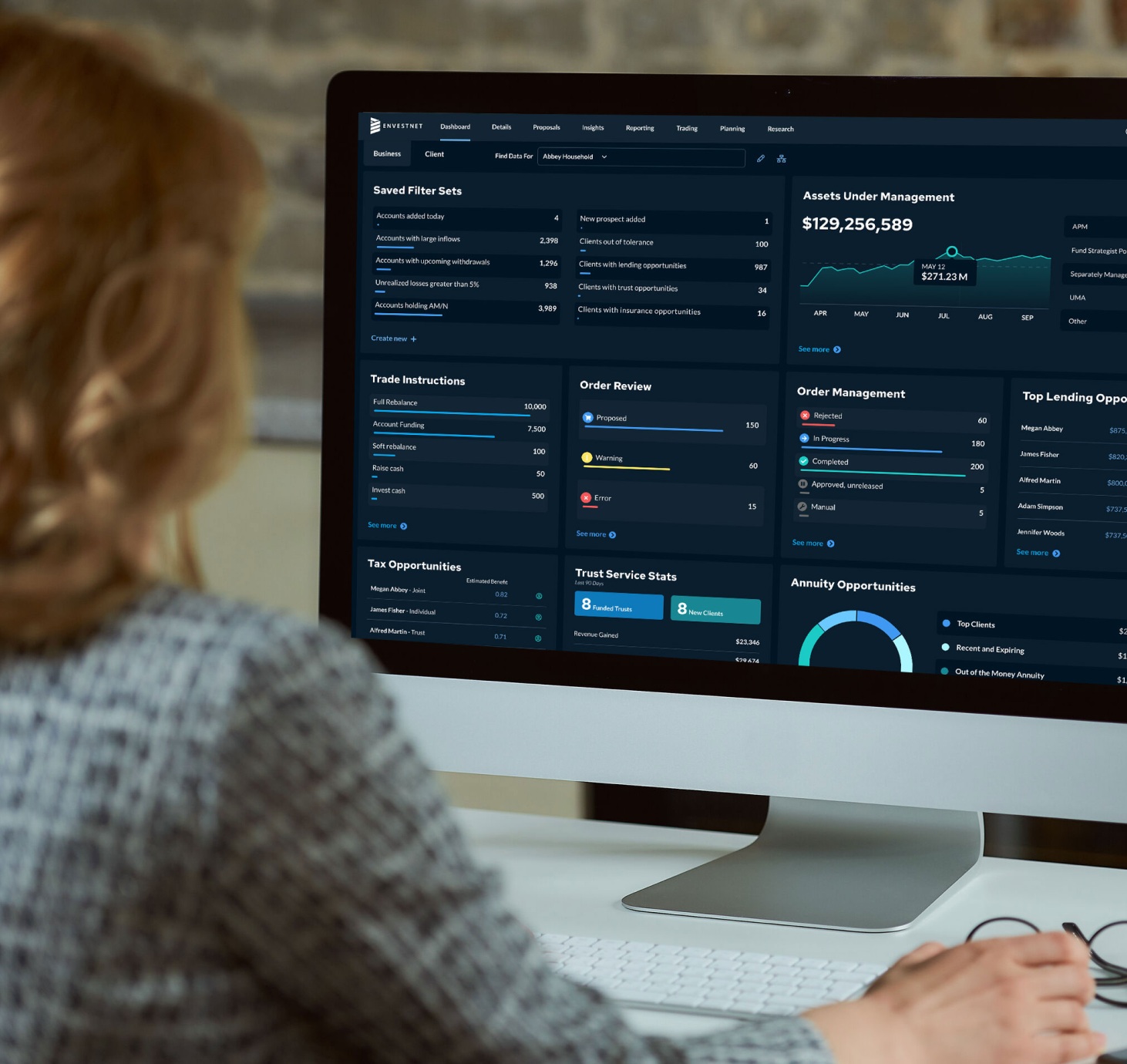 Accelerate growth with tech-powered workflows configured for you
Envestnet wealth technology creates an experience that connects wealth institutions, advisors, and clients to a vast amount of data and solutions in our ecosystem from a single interface. Our customers come to and stay with Envestnet because we offer a more intelligent wealth management journey.   Envestnet's  industry-leading technology framework equips you with the tools you need to deliver more impactful data-driven advice that will help take your business to the next level.
Technology to power the financial wellness journey
---
Access everything you need to manage wealth
Streamline administration with powerful, efficient solutions
Facilitate more meaningful engagement
Experience a feature-rich ecosystem of first- and third-party technology
With Envestnet's robust network of integration partners, you can easily create a holistic technology stack that simplifies your day-to-day and maximizes your value.
FEATURED OFFERING
Envestnet Client Portal
Clients' finances can be disconnected and disorganized—making the role of the advisor more challenging and the client experience more confusing. We built our client portal in response to this challenge. By leveraging deep integrations within our financial wellness ecosystem and a configurable interface, it helps to deliver a comprehensive view of an investor's total household finances.
HEAR FROM OUR PROFESSIONALS
Introducing a more modern platform experience
Product Manager Rachel Anderson shares exciting enhancements to the Envestnet | Tamarac platform as part of the April 2023 release.
HEAR FROM OUR PROFESSIONALS
New platform release brings efficiency via automation
Envestnet Wealth's Chief Product Officer Molly Weiss shares how our second release of 2023 is helping advisors bring more value to their clients.
HEAR FROM OUR PROFESSIONALS
Making a single secure, scalable platform possible
Diane Havrilla, Director of Product Management, details how Open ENV provides real-time connectivity and permissioned data sharing between Envestnet and third-party applications.
An industry leader and partner of choice1
Let's talk about your needs
Whether you're a current customer looking to add to your stack or new to Envestnet and want to discuss your firm's needs, we're here to help.
Stay ahead of the game with these insights
---
EBOOK

Preparing for the future of wealth management

---

Managing wealth means mastering data. Learn how early adoption of a data analytics solution can help you build client relationships that last.

WHITE PAPER

RIA Roadmap: 6 Steps to Digital Transformation

---

Discover how to demonstrate greater value to your clients with these digitization best practices.
1Data as of June 30, 2023.