With Envestnet Analytics, you can transform data into actionable insights. Apply advanced analytics tools to a comprehensive set of data to uncover practice and portfolio trends and business advantages. Firms can address key drivers to their business, identify current risks, and find their best growth opportunities.
Through the Envestnet Enterprise Portal, firms can access a robust data intelligence dashboard to help them better navigate and manage their business. With Envestnet Analytics capabilities, they can leverage powerful tools that give them insight into what their advisors are doing--like seeing who their high performers are and what products and programs they're utilizing. They can identify areas where there's need for improvement and professional development. And, they can track asset growth, spot product trends, and see how their firm compares to others in the Envestnet universe. Learn more about our dasboards:
Core Analytics
Dashboards
Performance
Dashboards
Custom
Dashboards
Fees and Benchmarking
Dashboards
Learn more about the Enterprise Portal.
Already a client? Log-in.
Leveraging Envestnet Analytics capabilities, the Envestnet Manager Portal provides key metrics that can help asset managers drive better decisions on distribution and sales. Serving as a "virtual account manager," firms can gain deeper insight about their book of business, run day-to-day operations more efficiently, and most importantly, raise assets more quickly. What makes the Envestnet Manager Portal unique is our ability to capture essential information about the clients you serve, prospects, as well as the advisor landscape as a whole.
Building a Thoughtful Distribution Strategy
Our analytic tools can give you an inside look at your market share at firms.
+ An enhanced firm profile
View detailed information by firm including deal terms and key contacts. Leverage CRM capabilities to share notes and upload, store, and share your marketing content with firms on the platform.
+ Portfolio Mapping
View fee grids by product across firms and determine your research status and availability to advisors. Map your products to designated style categories by firm and get an overall picture of style allocations.
+ Impactful analytics
Access robust reports with complete asset detail—down to sleeve level data—across firms. Determine your share of wallet and client growth rates. Leverage benchmarking tools to assess your distribution success
.
| | | |
| --- | --- | --- |
| | | |
| Product Availability by Style | Proposal Metrics | Firm Scorecard |
| | | |
| | | |
Having the right information, accurate data, and the tools to efficiently manage relationships is the key to business planning.
Learn more about our Basic Dashboard, Advanced Dashboard, and Product Availability Application.
Learn more about the Manager Portal.
Already a client? Log-in.
Digital management tools and visualization of data that's all about telling a story, answering the right questions, and triggering actions that get results. Take advantage of data intelligence--sourced by your firm--to help you make smarter business decisions when setting and executing sales plans. Dispatch and expand your most effective salespeople to help you grow assets under management.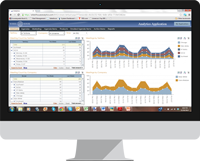 + The Total Picture
The complete counterparty picture including deals, oversight, analytics, and more.
+ Set Tasks
Set sales and activity goals by territory, key accounts, and management.
+ Teamwork
Allows for teamwork among externals, internals, and management when setting goals.
+ Realistic Insights
Gain realistic insight into sales and activity performance using BPA dashboards.
Learn more about our Distribution Analytics capabilities.
Already a client? Log-in.