B-Ready Outsourcing, part of Envestnet since April 2010, is a leading provider of back-office outsourcing services to financial adivsors who use PortfolioCenter® from Schwab Performance Technologies®. At B-Ready, we manage and maintain your data and performance reporting with a virtual, full-service solution that is customized to fit your specific business and reporting requirements.
One of the primary building blocks for your business is accurate data. Deep, useful data must be built and safeguarded by people who are knowledgable about reporting software, the financial industry – and your business. At B-Ready we work to make sure your data is everything it needs to be. We develop a complete view of your firm and how you operate, so we can help you deliver the best possible service to your end clients.
You stay focused on your core concern – your clients
We work with your staff to create efficiencies and stability in your office
We help reduce your operating costs and streamline data management
Our services are customized to fit your firm's needs and requirements
We eliminate pain points for you and your staff
You can rely on a dedicated team of specialists ready to assist you
Schwab Performance Technologies
We use PortfolioCenter®, Schwab Performance Technologies'® portfolio management and accounting system to manage our clients' data.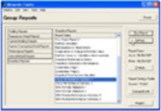 PortfolioCenter®
A scalable and flexible platform to efficiently work with multiple custodians.