Across many industries, consumers are saying that personalization matters. 80% of consumers say it's important to them to have personalized solutions and 42% get annoyed when content isn't personalized.1
In financial services specifically, 70% of wealth management clients see highly personalized service as a factor in deciding whether to stay with their current advisor or switch to another firm.1 Clients seem to understand that a customized plan will better serve them than something generalized and that assumption is likely correct. A study by Vanguard in 2016 found that personalized advice and portfolio management can lead to higher returns and lower risk for individual investors.2
These data points, and the other research we mention in our recent white paper "Unlocking Personalization at Scale," suggest that advisors who are able to focus on addressing each client's unique situation will have happier clients and better outcomes. Unfortunately, without the right tools that is much easier said than done.
Delivering personalization takes time and resources
While advisors may prefer to give each client individualized attention, there is no question that it takes time and resources. One of the main challenges is the need to access and integrate data from multiple sources. To provide personalized investment advice aligned with client risk tolerance and investment goals, financial advisors need access to a wide range of data, including client demographics, financial information, and investment preferences. This data may be stored in different formats and locations, making it difficult to access and integrate. Without robust tools, it is difficult to gain a deep understanding of each client's financial situation and investment preferences.
Another challenge is scalability. As the number of clients increases, it becomes increasingly difficult for advisors to provide personalized investment advice to each client. Advisors may need to use algorithms to automate the investment process and generate personalized investment advice for each client. We're also seeing firms successfully turn to outsourcing to efficiently meet client needs.
Advisors turn to outsourcing to free up time
For 12 years, FlexShares has studied how and where advisors are finding efficiencies to better scale and grow their businesses, enabling them to create a better client experience. The body of data that has resulted from these surveys provides a valuable long-term look at how values, practices, and outcomes have changed over a decade of rapid change for the advice business. In their white paper, "The Race to Scalability 2022," FlexShares explores the connection between outsourcing and scalability.

Their findings show that over the last decade, advisors' use of third parties for investment management has remained largely consistent. Approximately 41% of survey respondents outsource their investment management. While that proportion has not changed over the last decade, about half of all respondents who do outsource report increasing their overall use of third-party providers over the past three years. It's clear that the four out of 10 advisors who do turn to outside investment management have become more comfortable with it and are turning to it with greater frequency over time.
Advisors consistently identify a desire to free up time in their practice as a primary reason for outsourcing.
Why the increase in use? The survey shows that advisors consistently identify a desire to free up time in their practice as a primary reason for outsourcing.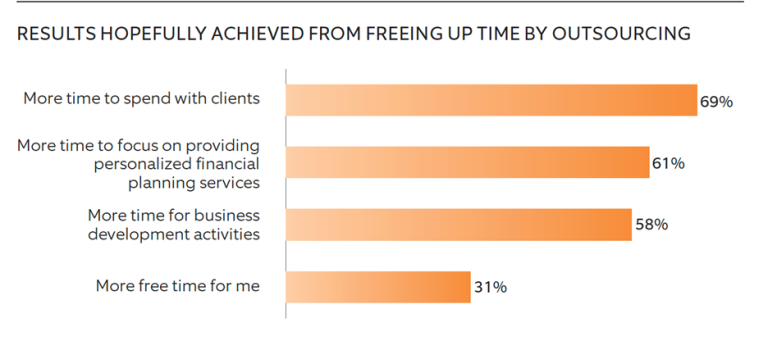 Outsourcing has other benefits as well. Importantly, a majority of those who currently outsource believe it has helped them to increase their firm's revenues and half believe outsourcing provides a way to serve their clients more efficiently.
Expanding your resources to increase scalability
Because of these benefits, as more affordable outsourcing options become available, we expect to see their use increase. To learn more about outsourcing investment management, read the full FlexShares white paper. Northern Trust Asset Management is an Elite Partner of Envestnet for 2023, focusing on the use of data analytics in their sales process and providing practice management expertise to our clients.
---
Outsourcing investment management is just one way to deliver personalization at scale. For a deeper dive, download our white paper at https://www.envestnet.com/personalize.
---