At Envestnet, we are Fully Vested in our mission to make an Intelligent Financial Life™ a reality for everyone. We believe that transcends beyond financial advice and technology through compassionate action. Our charitable focus embraces education, financial literacy, and helping those in need in the communities where we work and live. Here is a closer look at just some of the ways we pursued our mission in 2022.
Envestnet charitable giving by the numbers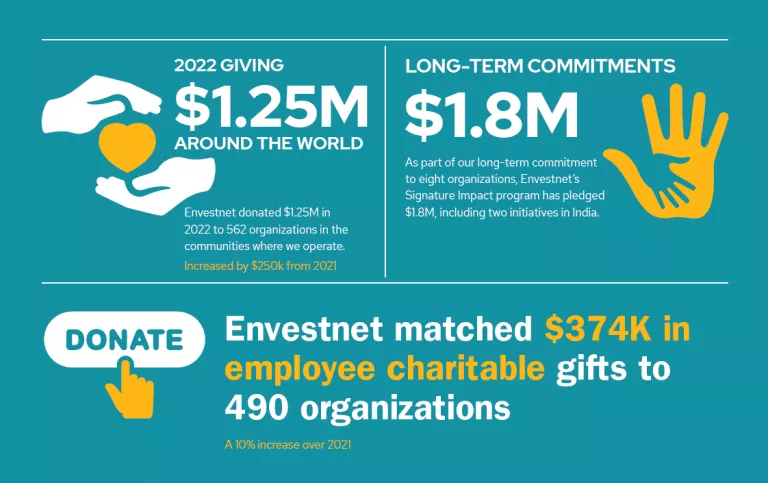 How we take compassionate action
Envestnet organizes its charitable initiatives in four ways:
1. Signature impact
Signature Impact initiatives are focused on fostering long-term partnerships with charitable organizations in the communities where we do business. Long-term commitments provide a more predictable source of funding for our charitable partners. By focusing our charitable giving, we can have a more meaningful and lasting impact on charities that support education, financial literacy, and people in need. Some of our partnerships include:
The Center for Financial Planning in Washington, D.C. where, to date, 75 Envestnet scholarships have been awarded, totaling approximately $414K. The scholarships are designed to support women and people of color
The Network for Teaching Entrepreneurship (NFTE), which joined with EVERFI Envestnet Institute in Classrooms to create two online courses for school-age children. Last year, 870 students in 22 low-to-moderate income schools completed these courses
The Foundation for Financial Planning (FFP), the nation's leading charity dedicated to advancing pro bono financial planning for at-risk populations, which has reached over 83,746 people in need, including 75,504 through financial capability workshops and webinars, and over 8,242 through one-on-one financial planning sessions
2. Annual corporate giving
Annual gifts are identified by Envestnet employees and facilitated through the Envestnet Charitable Giving Committee. Unlike our Signature Impact initiatives, Envestnet's annual giving is flexible in responding to the most immediate needs in our communities.
3. Volunteering
Direct engagement and service to others are vital to Envestnet's charitable giving strategy. After a long hiatus, in-person volunteering resumed in the spring of 2022 and employees volunteered across the U.S. In the Fall, Envestnet sponsored Out of the Darkness Walks in Chicago and Philadelphia for the American Foundation for Suicide Prevention. In addition, Envestnet continued to offer virtual volunteer events allowing employees to make an impact from their home or office locations. This year Envestnet employees built skateboards, wrote notes to elderly adults, and made dog toys for rescue shelters, among other activities.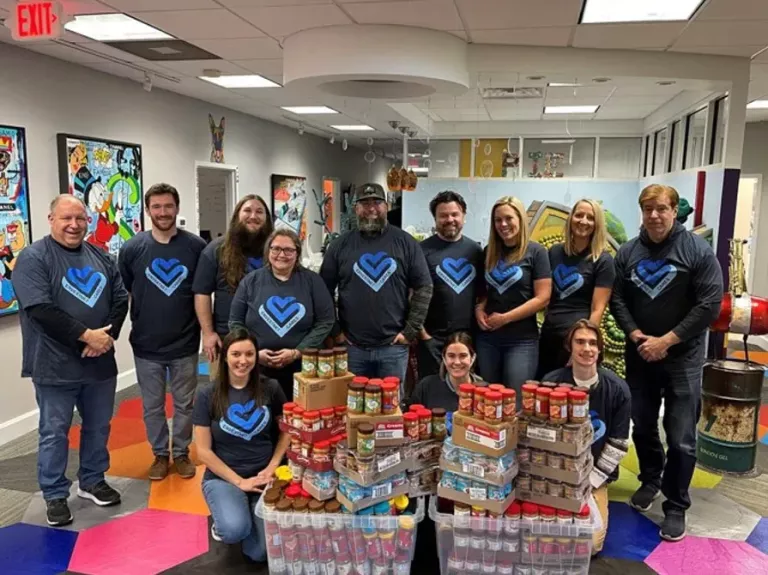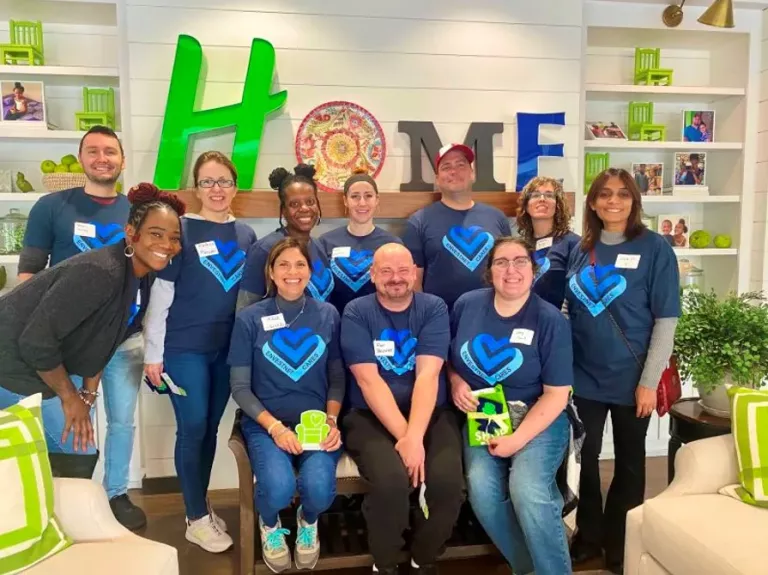 4. Multiplying employee giving
Envestnet multiplies the charitable generosity of employees through donation matching. For each personal gift by an employee to a registered 501(c)(3) organization, Envestnet matches the gift up to $3,000 per year. Throughout the year, we also offer targeted 'Triple Your Donation' campaigns with an additional employee match to encourage employees to give generously.
In 2022, those campaigns included:
Supporting organizations providing aid in Ukraine in response to the conflict and humanitarian crisis
Celebrating Pride Month and supporting organizations in the LGBTQ+ community and other marginalized groups
Addressing Suicide Awareness and Prevention Month by supporting organizations that help people in crisis, their families, and their friends
And in December, we invited employees to give to their favorite organizations working to end food insecurity and/or homelessness

Through these efforts, Envestnet employee donations raised over $1.4M for important causes since 2016. We are so proud of the generosity of our employees and their desire to give back to their communities.
Learn more about the charitable work that we do at https://www.envestnet.com/corporate-social-responsibility. And be sure to follow us on social media to see photos of our amazing volunteers!