Our commitment to continually enhancing our platform allows us to respond to the evolving needs of Registered Investment Advisors (RIAs) and, ultimately, the efficiency of your practice. Here's an overview of the latest updates.
Tamarac reporting: Enhancements add data access
Automate reporting with PDF Scheduler
We know that producing polished PDF reports for clients is crucial. Whether you send them by mail or through the client portal, these reports should look professional and carry your brand. Our new PDF scheduler makes it simple for advisors to automate this process, generating and sharing PDFs automatically. With just a few clicks, advisors can schedule reports and consistently deliver regular financial statements to clients.
Improve data accuracy with allocation weighted benchmark history
We understand data is crucial for RIAs to serve clients. In this update, we've made it easier for advisors to improve data accuracy. Advisors can now easily upload historical data to maintain allocation weighted benchmarks more efficiently. This helps advisors integrate historical allocation weighted benchmark information into the Tamarac platform, enabling them to gain better insights, identify long-term trends, and make data-driven decisions with greater accuracy and confidence.
Enhanced account committed capital bulk reports
Our Account Committed Capital bulk report provides essential committed capital details, including amounts, account numbers, and symbols. Advisors use these reports to extract and analyze data so they can make the most informed decisions for their clients. To enhance this report, we've added the following extra data points:
Federal Withholding
Last Valuation Value
Recallable Distributions
Here's a look at the new bulk report: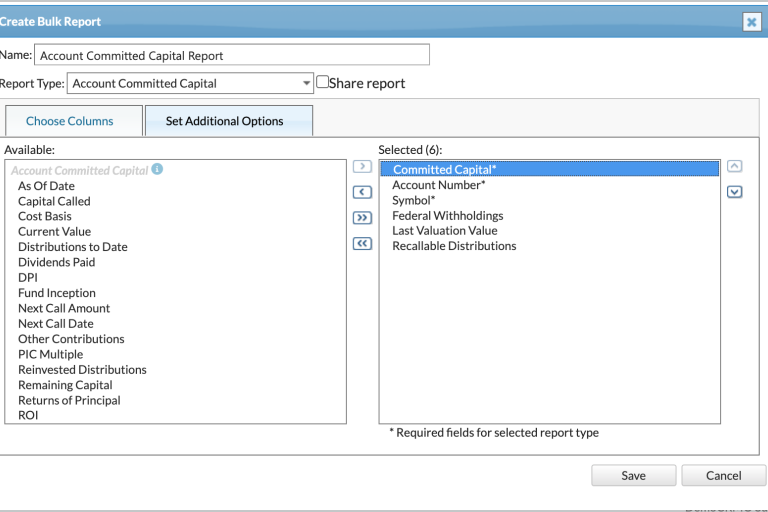 New client portal enhancements
In this release, we've made several enhancements to our new Client Portal, creating a more unified client experience. Here's a look at two key enhancements:
Clients can manage their assets and liabilities. Initially, the client portal only showed assets and liabilities added through Tamarac Reporting. Now, we've expanded this feature. Clients can manually add, edit, and delete assets and liabilities, giving them more control.

Display benchmarks on the account performance page. Benchmarks serve as a standardized measure to evaluate portfolio performance relative to a relevant market index. This update lets advisors show these benchmarks on the Account Performance page, enabling clients to see how their portfolio's performance compares to the broader market.
Tamarac trading: Rebalance summary updates
Add new securities for trading in security level models
Efficient processes are vital for servicing clients well. With this update, advisors can more easily purchase a security in a Security Level Model that is not yet held in an account. This is an essential workflow for advisors who often create custom strategies when trading their accounts, and saves time by making additional securities in the Security Level Models assigned to an account available to be traded.
Tamarac CRM: Enhancements save time
New Snowbird feature saves time and effort
We're excited to announce the latest addition to our service—a groundbreaking feature that will transform how advisors manage mailing address changes for existing accounts. With the new Snowbird functionality, advisors can easily update clients' mailing addresses for a specified duration. This functionality automates the entire address updating process, saving valuable time and effort.
Open in Tamarac from reporting groups
Tamarac CRM lets advisors see important financial information about client reporting groups. This integration presents an overview of key financial and rebalancing data points in one place, allowing advisors to access the corresponding reporting group in Tamarac Reporting conveniently. This saves time and streamlines work processes.
Here's a look at the enhancement: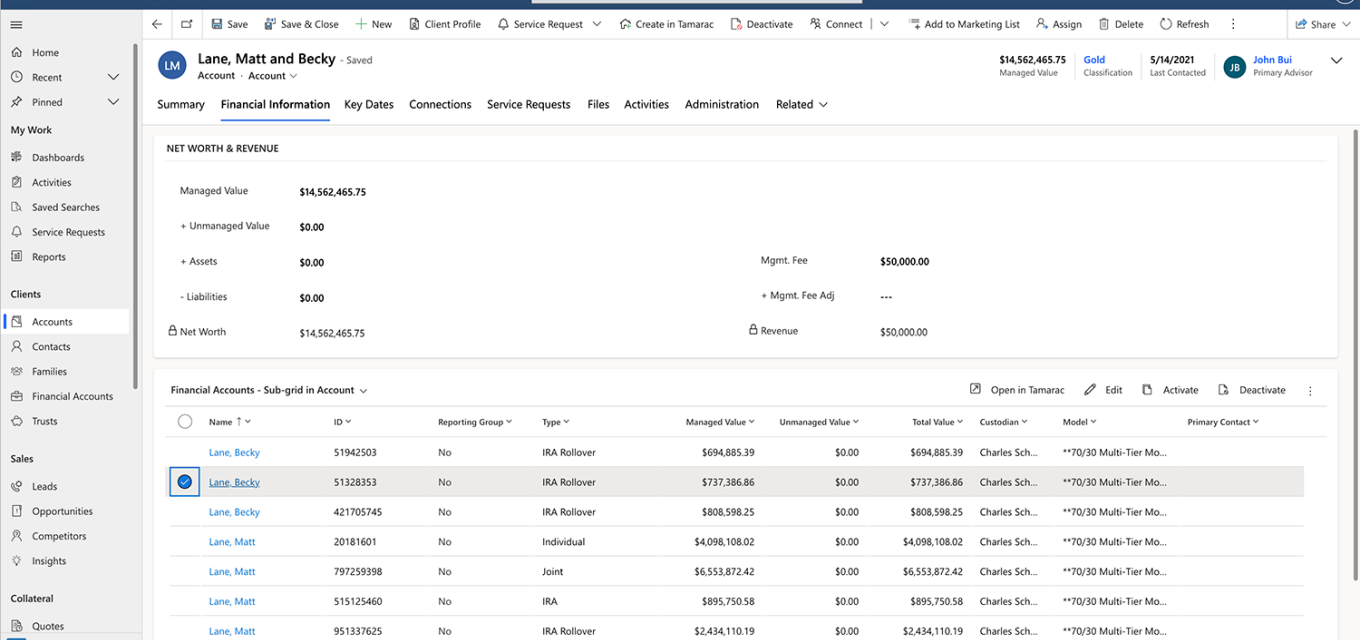 Learn more
As we continue to innovate and enhance the Envestnet | Tamarac user experience, stay tuned for regular platform updates. Learn how our robust reporting and trading solutions can assist you in providing your clients with customized performance tools and resources. Visit www.tamaracinc.com or give us a call at 866-525-8811.
---
The information, analysis and opinions expressed herein are for informational purposes only and do not necessarily reflect the views of Envestnet. These views reflect the judgment of the author as of the date of writing and are subject to change at any time without notice. Nothing contained in this piece is intended to constitute legal, tax, accounting, securities, or investment advice, nor an opinion regarding the appropriateness of any investment, nor a solicitation of any type.

FOR INVESTMENT PROFESSIONAL USE ONLY ©2023 Envestnet. All rights reserved.